Howard Nurseries Plant Introductions
The following plants have either been found or bred here on our nursery at Wortham or have been introduced on behalf of someone else.
Dahlia 'David Howard' (Award of Garden Merit)
Introduced by the owner of Howard Nurseries, David Howard. A chance seedling selected from Dahlia 'Bishop Of Llandaff', raised in the late 1950's.
Burnt orange flowers, with dark foliage. Height 90cm, flowering July-September.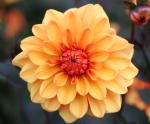 Campanula p. 'Wortham Belle'
A Howard Nurseries introduction by owner David Howard. Found as a chance seedling in stock beds in 1993, released in 1996.
A beautiful selection with light blue double flowers. A very upright, strong growing variety. Height 75cm, flowering June-July.
Hemerocallis 'Cathy's Sunset'
A Howard Nurseries introduction. Discovered as a chance seedling amongst a group of Hemerocallis 'Stella de Oro' by staff member Michael Foreman and named in honour of his daughter.
The attractive yellow and terracotta bi-coloured flowers are held above compact growth making it useful for the front border, long flowering season, height 60cm, flowering June-September.
Campanula lactiflora 'Monica's Dream'
A Howard Nurseries introduction. Discovered in 2015 by staff member, Michael Steggles, and named in honour of his granddaughter.
Beautiful white flowers that fade to pale cloudy white; remains strong and compact, if trimmed lightly after flowering. 40-60cm flowering June to September.
Potentilla 'Esta Ann'
A Howard Nurseries introduction. Bright yellow flowers with red centre, dark green leaves, trailing. Generally easy to grow. Happy in a well drained, moderately fertile, moist, open border in full sun. Once the blooms have faded remove the flower stems at ground level. Height 20cm. Flowering July-August.