Awards and Honours
After half a century in horticulture, we have built one of the best, most sustainable nurseries in the UK. The following awards recognise that success and celebrate our sustainability.
Archant Green 100

A list by the Eastern Daily Press and East Anglian Daily Times of the 100 greenest and most sustainable businesses across Norfolk and Suffolk. We are honoured to have been included on this list 3 times in 2012, 2013 and 2015 lists.

Suffolk Greenest County Awards

We were nominated for 2 awards at the 2013 Suffolk Greenest County Awards hosted by Adnams. We were a runner up in both the Climate Adaptation and for Water Management.

In 2014 we were nominated for both awards again. This time we went one better winning the Water Management award and receiving Highly Commended in the Climate Adaptation category.

Suffolk Carbon Charter

Our work with Suffolk Carbon Charter has made us one of the most sustainable nurseries in the UK. We have pledged to reduce our carbon footprint by 5% year on year. We were first accredited with a Gold Level in 2012 and have maintained this accolade to date.

Alan Bloom Award

A couple of years ago, the Herbaceous Plant Committee of the Royal Horticultural Society created an annual award in recognition of significant personal achievement relating to herbaceous perennials and hardy annuals. The award was named after Alan Bloom, thought of by many as the father of modern perennials.

The winner of the inaugural award in 2020 was the late David Howard and Christine Howard of Howard Nurseries Ltd and was awarded 'in recognition of the nursery's outstanding contribution to the understanding and promotion of herbaceous garden plants'.
Howard Nurseries Gold at the Chelsea Flower Show 2015

We collaborated with Sarah Cook, holder of the National Collection of Irises bred by Sir Cedric Morris, and were allotted space in the Grand Pavilion at the 2015 Royal Horticultural Society's Chelsea Flower Show. The stand showcased Tall Bearded Irises bred by Sir Cedric Morris. The Iris used in the exhibit were all grown in peat-free Melcourt Sylvamix.
Visit our RHS Chelsea 2015 Photo Album for more images.
Acclaimed artist Sir Cedric Morris ran the East Anglian Art School at Benton End, Hadleigh, Suffolk from 1940. He was a notable Iris breeder and plantsman. His Irises were shown at Chelsea in the late 1940's until mid 1950's, but have not been seen there since. The exhibit made the connection between Sir Cedric Morris as an Iris breeder and an artist.
We have won Gold and Silver Gilt medals at Chelsea, and have been growing Morris' Irises for 14years.
Sarah Cook, past Head Gardener at Sissinghurst Castle for the National Trust, was born and bred in Hadleigh and retired in 2004.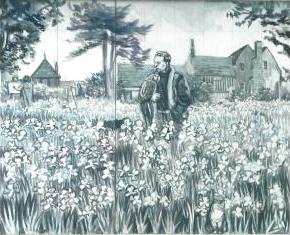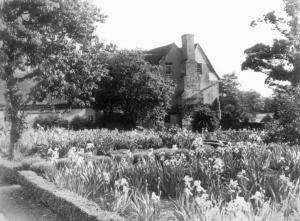 The exhibit had a large planting of Morris Irises and vases of Iris in a studio area, the garden and studio areas were enhanced by backdrops painted by Cherryl Fountain. (Cherryl has also worked on Gold Medal winning exhibits of Malmaison Carnations put up by Sarah's husband Jim Marshall at the Hampton Court Flower Show, her work has been regularly exhibited in the RA summer exhibition)
Sarah says "it was a chance in a lifetime to be working with Howard Nurseries who have all the skills and experience to grow plants for showing. Without their input it would not be possible to showcase the work of such a renowned artist and Iris breeder. It is a thrill to be working with a Suffolk company (and a fellow ITFC supporter!)"
She has spent the last 10 years researching Sir Cedric Morris and collecting his Irises. In all he bred and named about 90 Irises, but many have been lost to cultivation.
In 2004 Sarah set out to collect any of his Irises which had survived, and the collection now contains over 25 of his named irises, obtained from private sources and Botanic Gardens in Britain, Europe and the USA.
He is credited with breeding the first 'truly pink' irises, including one called 'Strathmore', shown at Chelsea in 1948 it was recorded in a nursery catalogue that "This beautiful iris was selected from our Gold Medal Exhibit at Chelsea, 1948 by H. M. Queen Elizabeth who graciously consented to have it named 'Strathmore' after her own home."