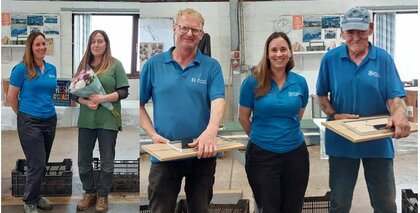 On 31st August Howard Nurseries Ltd celebrated some long service awards for members of staff:
Giles has worked on the container area 25 years, Rachel in the field department 30 years and Peter and Gavin have celebrated 40 years this year working at Howard's.
Currently we have over 9 members of staff who have worked at Howard's for over 25 years.
The RHS (Royal Horticultural Society) recognise people who have worked in horticulture over 40 years with a certificate and a personally engraved medal, which both Gavin and Peter received from Managing Director, Christine Howard.
Christine says, 'teamwork is at the heart of Howard's which helps enable us to produce quality plants and good customer service.'.
All staff were invited to a BBQ lunch as appreciation for them being part of the Howard's team.