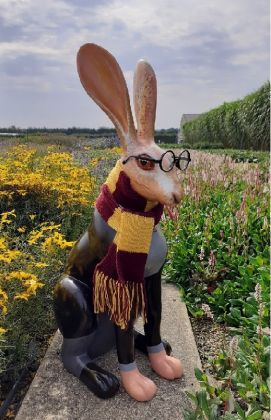 Welcome to Harey Potter the hare. He has been part of the fabulous Eye Sculpture Trail 2021 for @theblossomcharity He has now come to live at Howard Nurseries.

The artist is Amanda Church, Style Director @theblossomcharity who is credited with the Ed Sheeram sheep in 2019 and Colonel Tom, The Gentlehare in 2020.

It feels such an honour to be able to support a local charity in this way, which raised an incredible £62,000 plus from the auction of this year's sculptures.

Hope to place Harey in the garden of the office in time and look forward to seeing lots of smiles as the team walk past him. You can't help but smile - he's totally lovely.
Just hope he doesn't eat our plants!